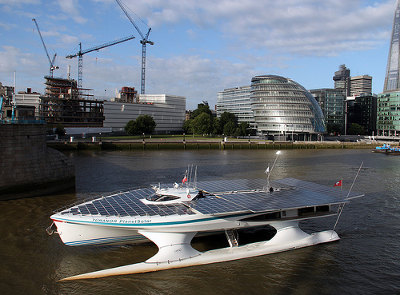 MS Tûranor PlanetSolar, known under the project name PlanetSolar, is the largest solar-powered boat in the world The vessel was designed by LOMOcean Design, built by Knierim Yachtbau in Kiel, Germany, and launched on 31 March 2010. In May 2012, it became the first solar electric vehicle ever to circumnavigate the globe.
The 31-metre boat is covered by 537 m2 of solar panels rated at 93 kW, which in turn connect to two electric motors, one in each hull. There are 8.5 tons of lithium-ion batteries in the ship's two hulls. The boat's shape allows it to reach speeds of up to 14 knots (26 km/h). The hull was model tested in wind tunnels and was tank tested to determine its hydrodynamics and aerodynamics.
On 27 September 2010, Tûranor PlanetSolar set off from Monaco to circumnavigate the globe solely with the aid of solar power. One aim of the project was to focus public awareness on the importance of renewable energies for environmental protection.
The boat had a crew of six. The captain of the expedition was Frenchman Patrick Marchesseau, but at the midpoint of the circumnavigation (in New Caledonia in mid-May 2011) the French Canadian Erwann Le Rouzic took over as captain.
A significant stopover was Cancún, Mexico, during the 2010 United Nations Climate Change Conference held there from 29 November to 10 December 2010. During the expedition, Tûranor PlanetSolar broke two records: the fastest crossing of the Atlantic Ocean by solar boat and the longest distance ever covered by a solar electric vehicle.